It's possible to change the following settings on the settings page:
Default Proposal Valid Days
Reserve Stock in Order Proposal
Hide Cancelled/Failed Proposals
PDF Template Type
You can find this option when you navigate to WooCommerce → Settings → General to the end of the General Options.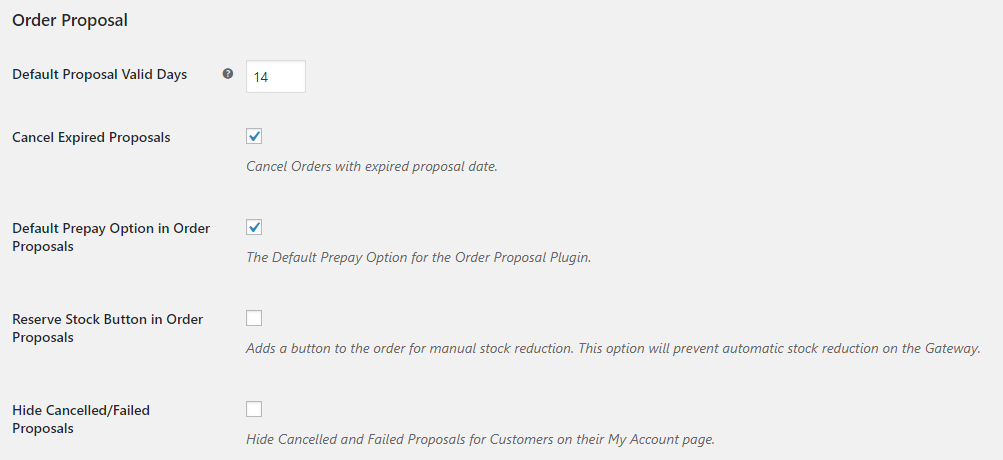 Default Proposal Valid Days #
These are the default days a proposal is valid.
This can be changed on each individual order
Reserve Stock in Order Proposal #
This option will enable a reserve stock button in an order proposal. Due to the way Woocommerce works you have to reserve the stock after the proposal is created manually.
The option can be found in the order item meta box and can only be used once.

Hide Cancelled/Failed Proposals #
This option will hide cancelled or failed order proposal under the My Account page in the frontend of the logged-in user.
PDF Template Type #
If you have the WooCommerce PDF Invoices & Packing Slip Premium Templates installed, you can pick the corresponding template type here.
This option is only visible if you have the template plugin installed.
Email Notification #
When you go to WooCommerce → Settings → Emails you'll see the order proposal email notification with the names Customer Proposal Backend, Customer Proposal Payment Gateway and Admin Proposal Payment Gateway.

When you click on one, you'll see several settings. From enabling and disabled the email notification to modifying the email subject and heading.
You can also add a BCC email/s for the proposal email.